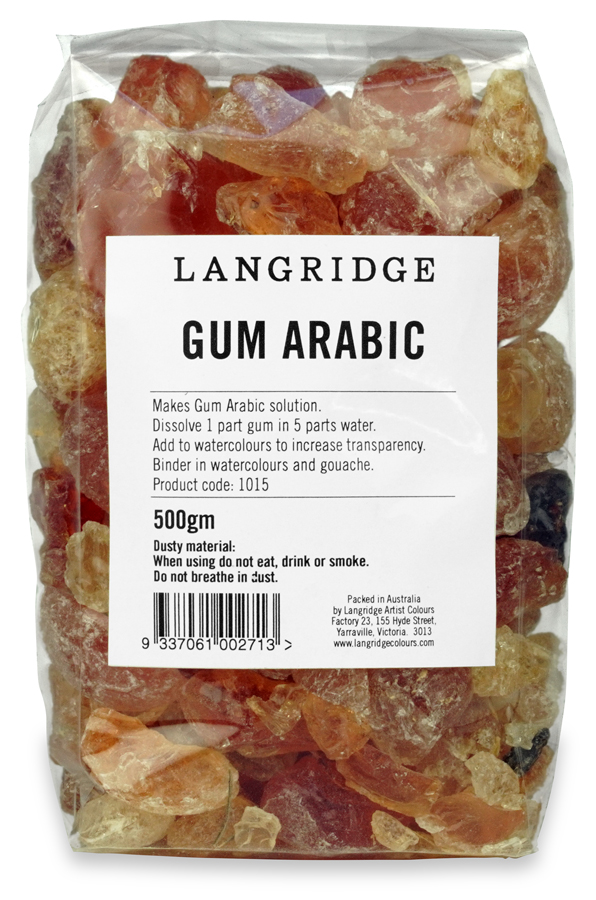 Gum Arabic
Makes Gum Arabic solution.
Dissolve 1 part gum in 3 parts water (by weight).
Add to watercolours to increase transparency.
Binder in watercolours and gouache.
SDS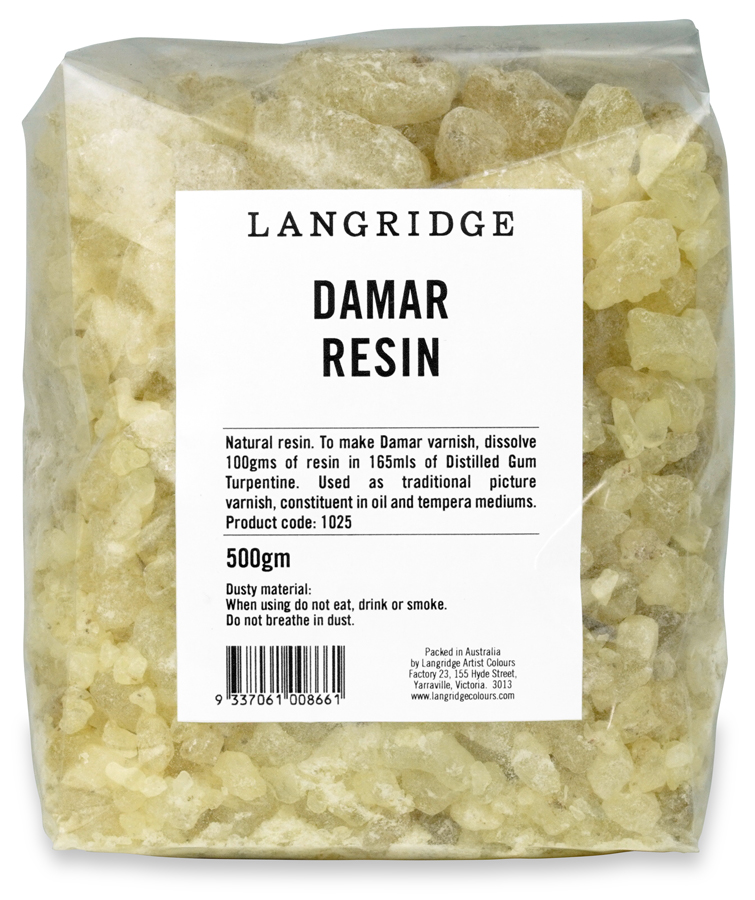 Damar Resin
Sumatran A1 grade Damar Resin. Very clean and bright.
Constituent in oil painting and egg tempera mediums. Add to mediums to create optical depth and transparency. Use as a traditional picture varnish for oil painting. Damar Varnish is easily removed but has a slight tendency toward yellowing and embrittling with age.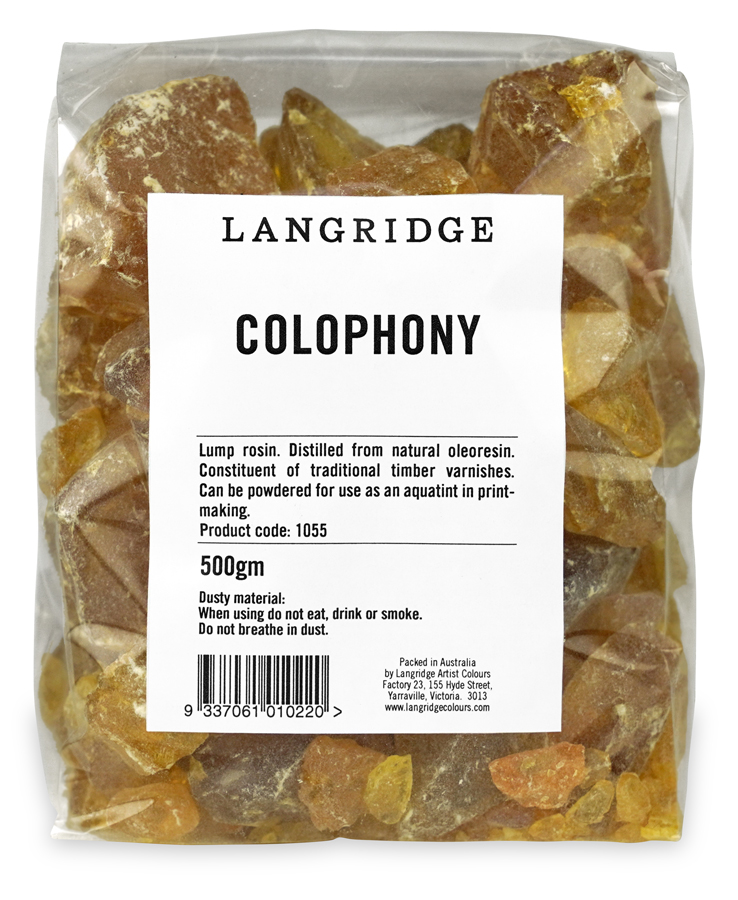 Colophony
Lump rosin. Distilled from natural oleoresin.
Constituent of traditional timber varnishes.
Can be powdered for use as an aquatint in printmaking.
SDS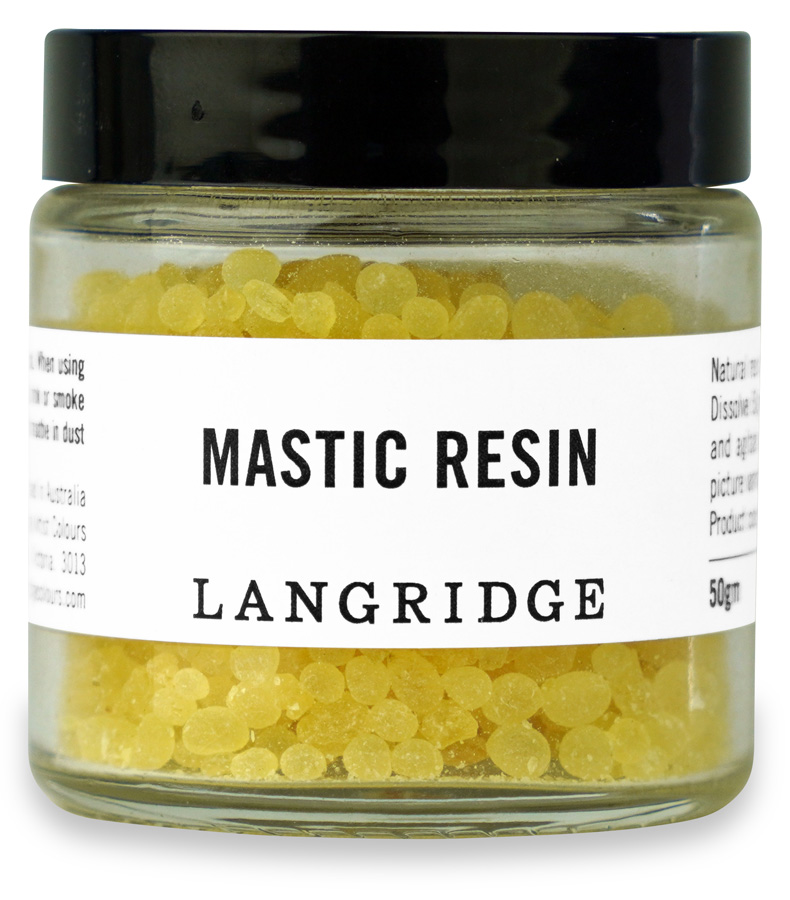 Mastic Resin
Natural resin from Pistacia lentiscus.
Dissolve 50gms of resin in 200mls of Distilled Gum Turpentine
and agitate frequently till dissolved. Used as a traditional
picture varnish, constituent in oil and tempera mediums.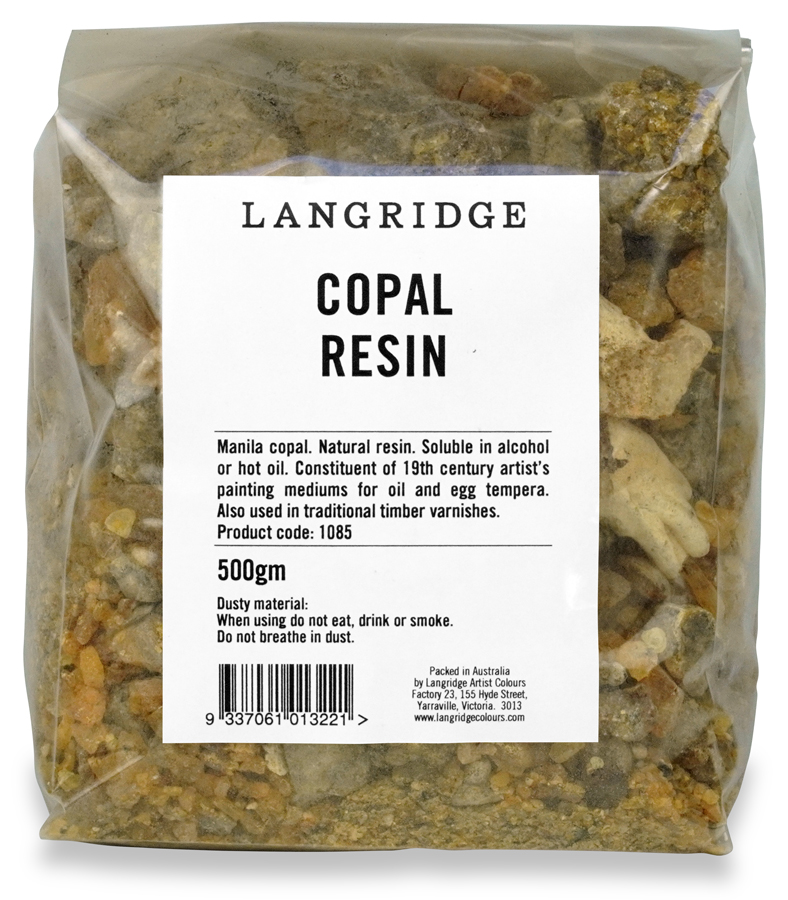 Copal Resin
Manila copal. Natural resin. Soluble in alcohol or hot oil.
Constituent of 19th century artist's painting mediums for oil and egg tempera.
Also used in traditional timber varnishes.
SDS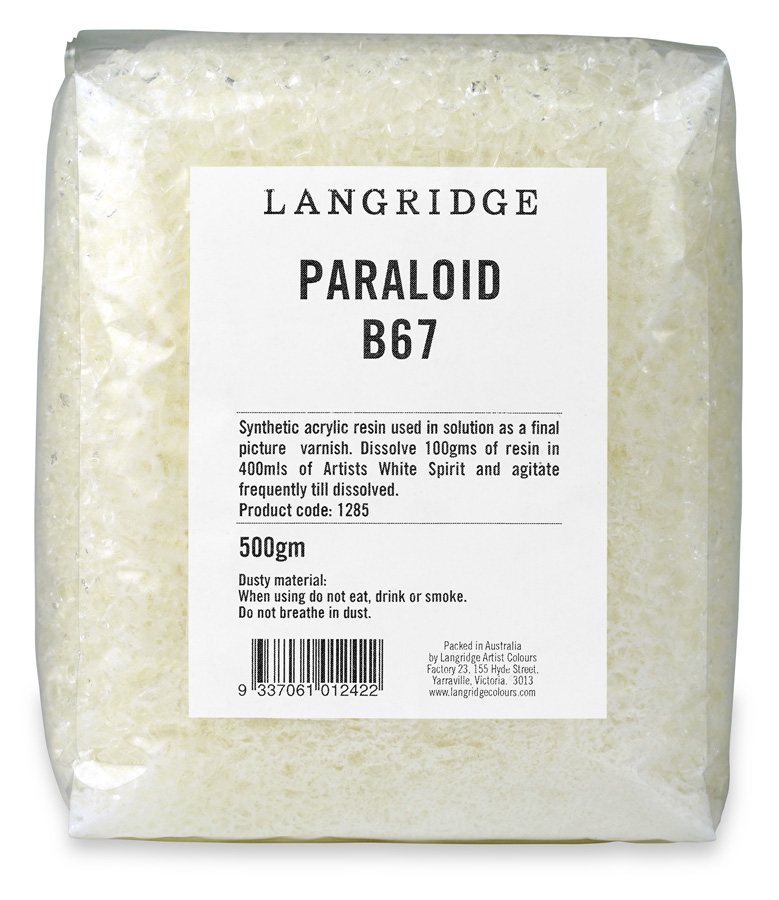 Paraloid B67
Synthetic acrylic resin used in solution as a final picture varnish.
Dissolve 100gms of resin in 400mls of Artists White Spirit and
agitate frequently till dissolved.
SDS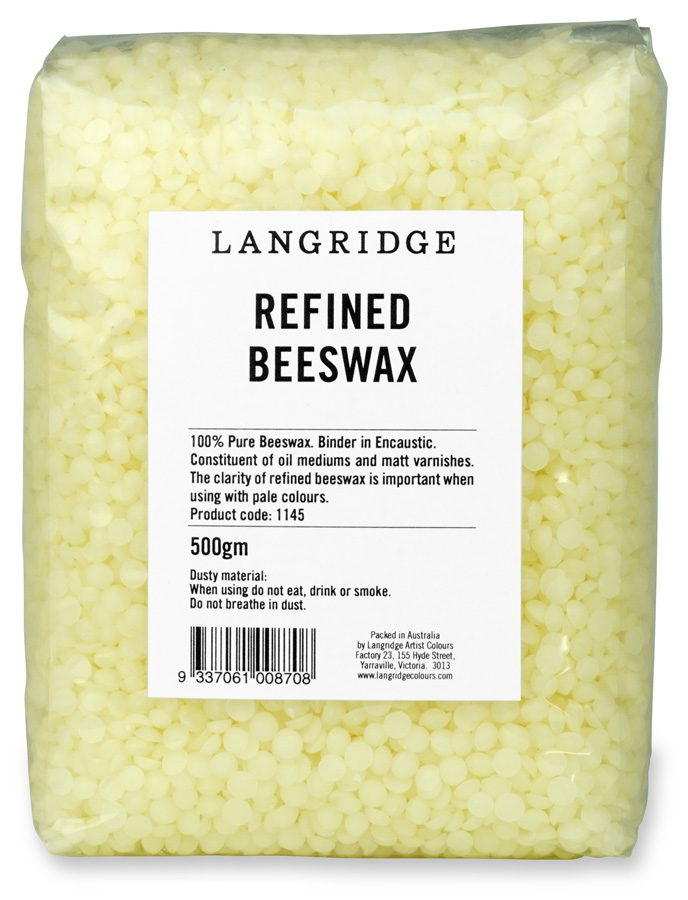 Refined Beeswax
100% Pure Beeswax. Binder in Encaustic.
Constituent of oil mediums and matt varnishes.
The clarity of refined beeswax is important when using with pale colours.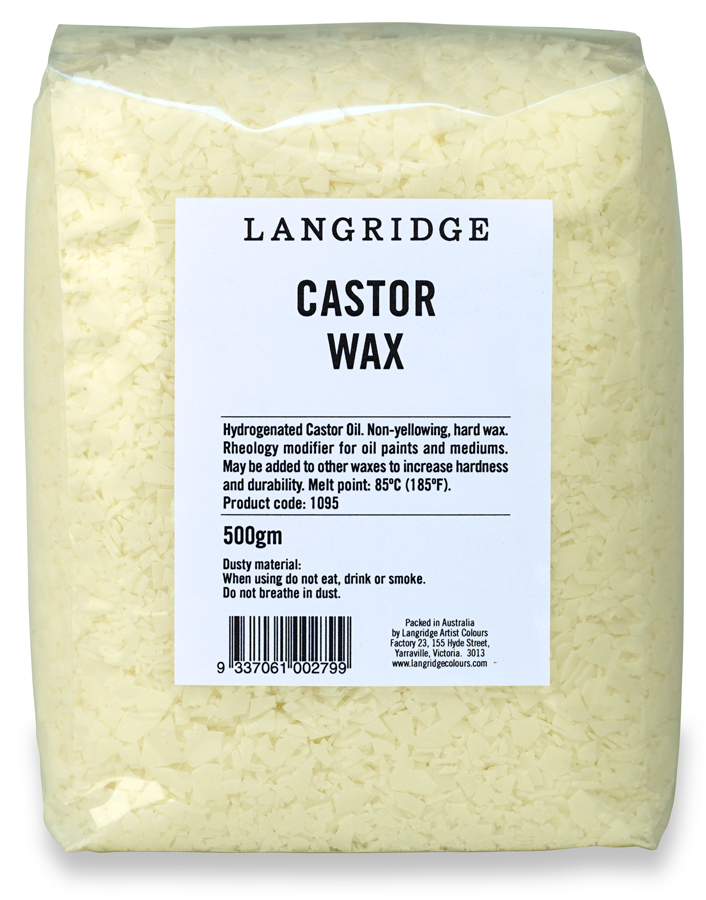 Castor Wax
Hydrogenated castor oil (Castor Wax) is a non-yellowing hard wax.
Used as a rheology modifier for oil paints and mediums; may be added to other waxes to increase hardness and durability.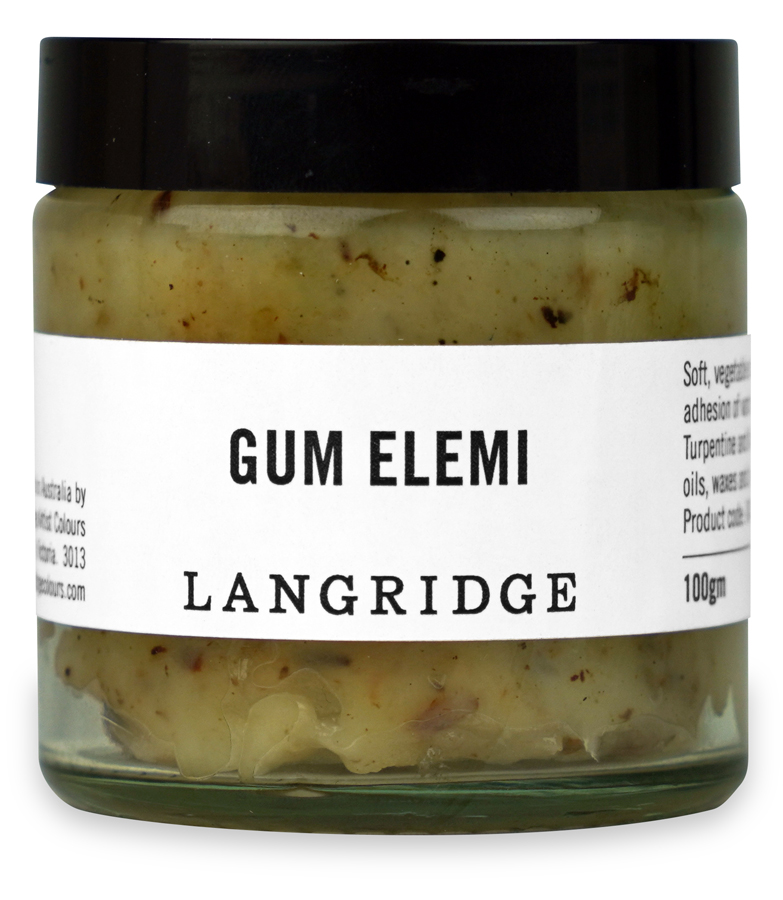 Gum Elemi
Soft, vegetable oleoresin. Plasticizer. Improves flexibility and adhesion of varnishes. Completely soluble in Distilled Gum Turpentine and Artists White Spirit. High compatibility with oils, waxes and a wide range of natural and synthetic resins.
SDS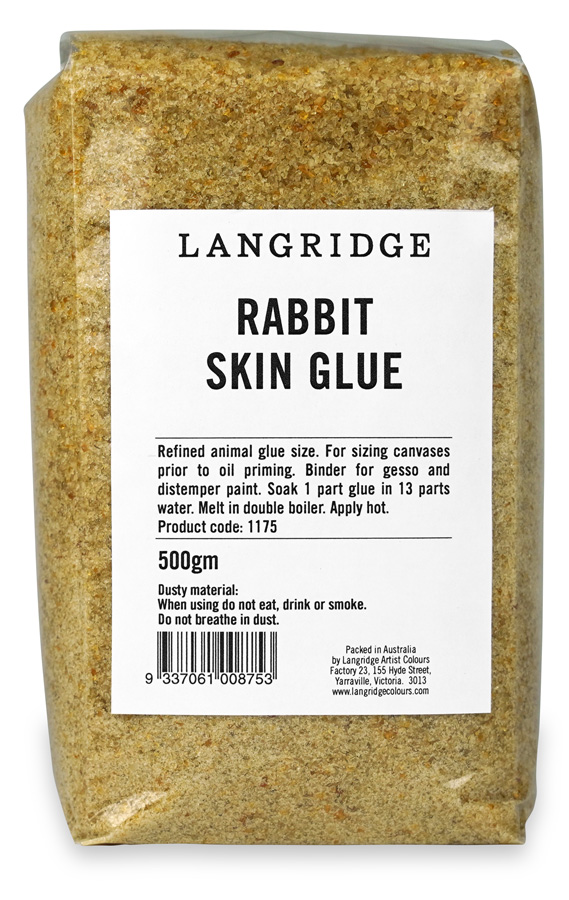 Rabbit Skin Glue

Refined animal glue size. For sizing canvases prior to oil priming. Binder for gesso and distemper paint. Soak 1 part glue in 13 parts water. Melt in double boiler. Apply hot.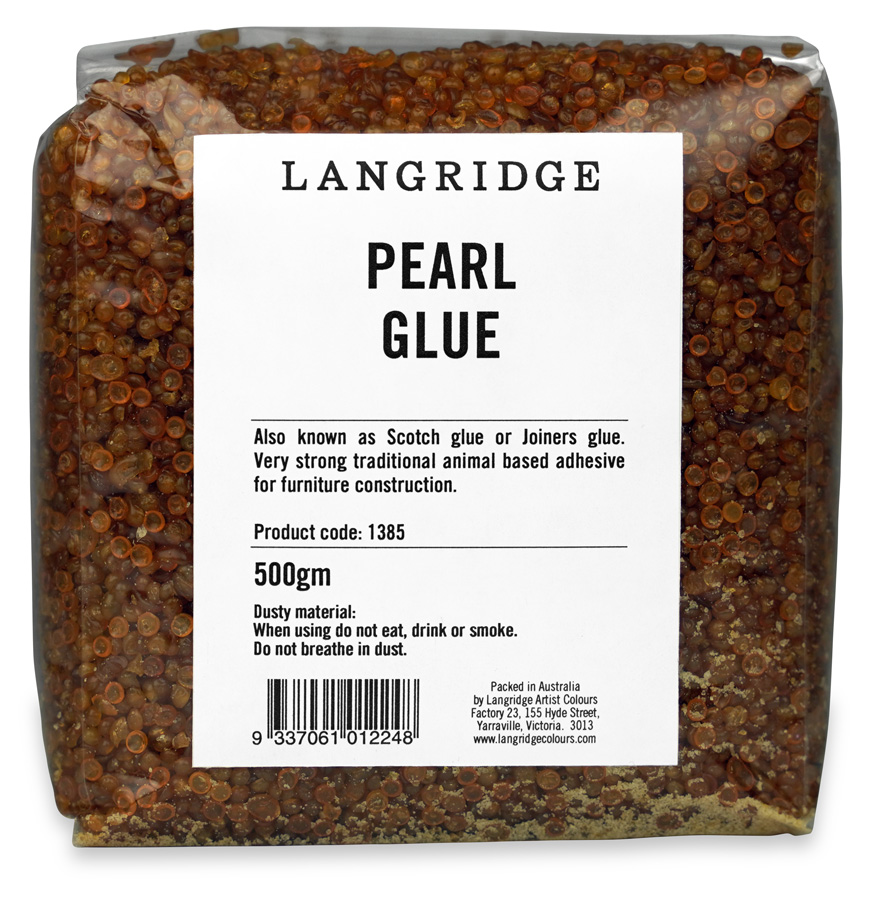 Pearl Glue

Also known as Scotch glue or Joiners glue.
Very strong traditional animal based adhesive for furniture construction.
SDS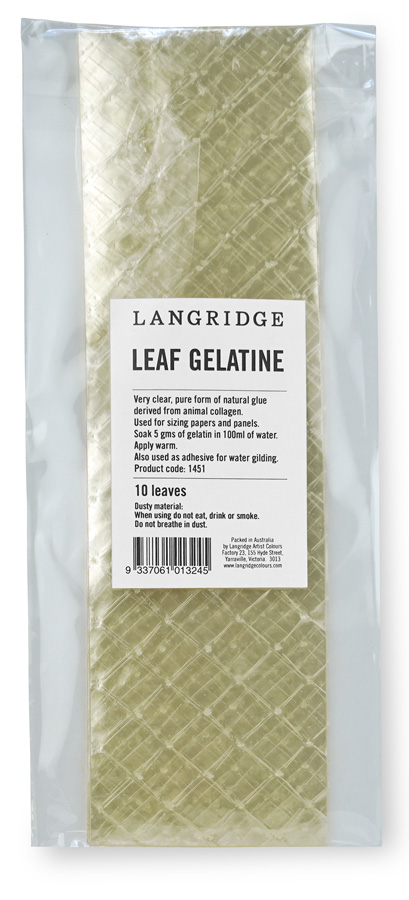 Leaf Gelatine

Very clear, pure form of natural glue derived from animal collagen.
Used for sizing papers and panels.
Soak 5 gms of gelatin in 100ml of water.
Apply warm.
Also used as adhesive for water gilding.
SDS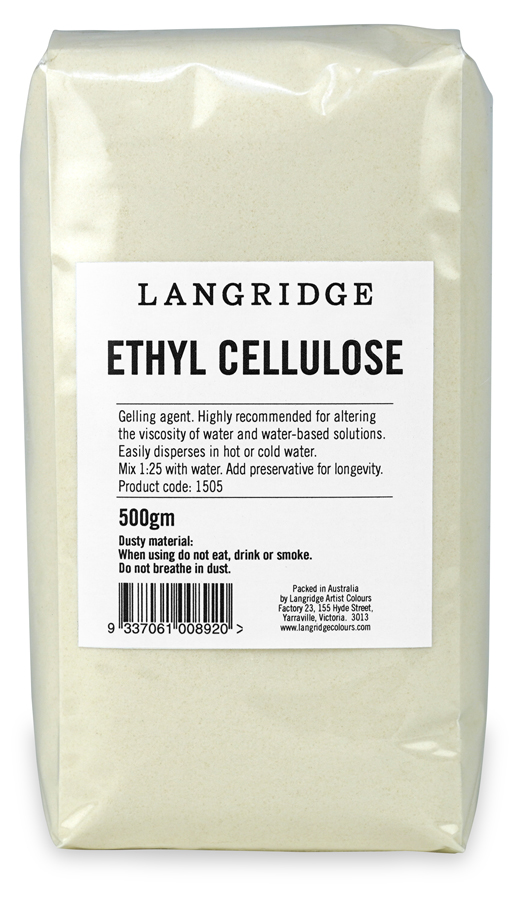 Ethyl Cellulose

Gelling agent. Highly recommended for altering the viscosity of water and water-based solutions.
Easily disperses in hot or cold water.
Mix 1:25 with water. Add preservative for longevity.
SDS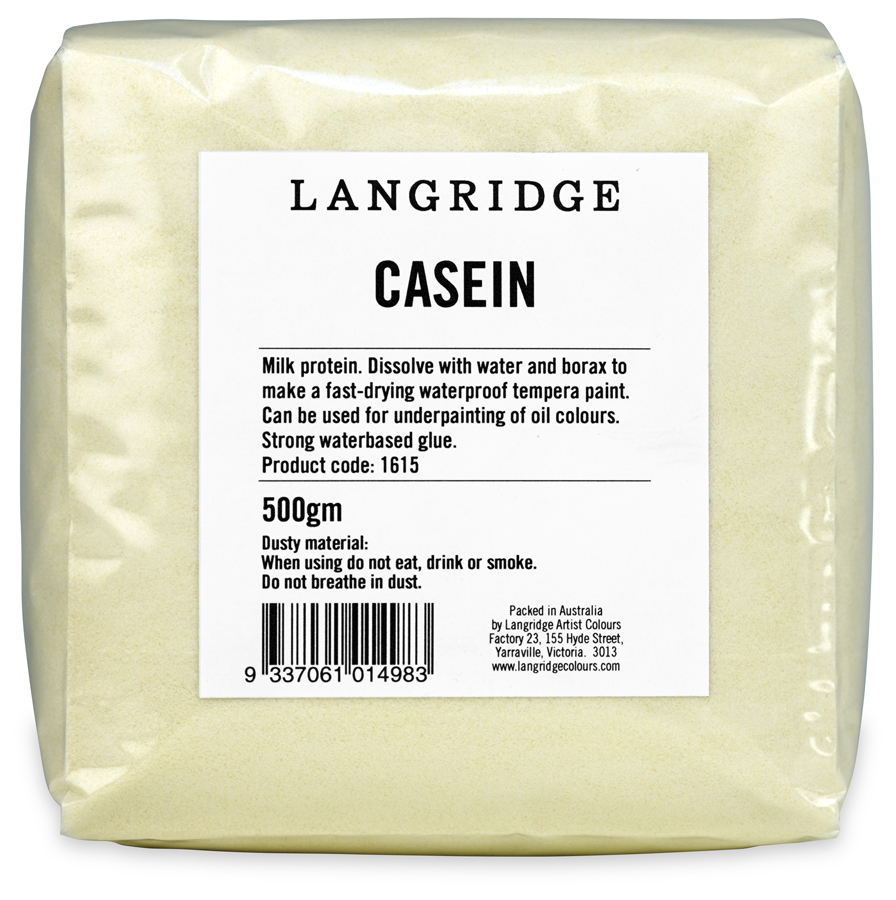 Casein

Milk protein. Dissolve with water and borax to make a fast-drying waterproof tempera paint.
Can be used for underpainting of oil colours.
Strong waterbased glue.
SDS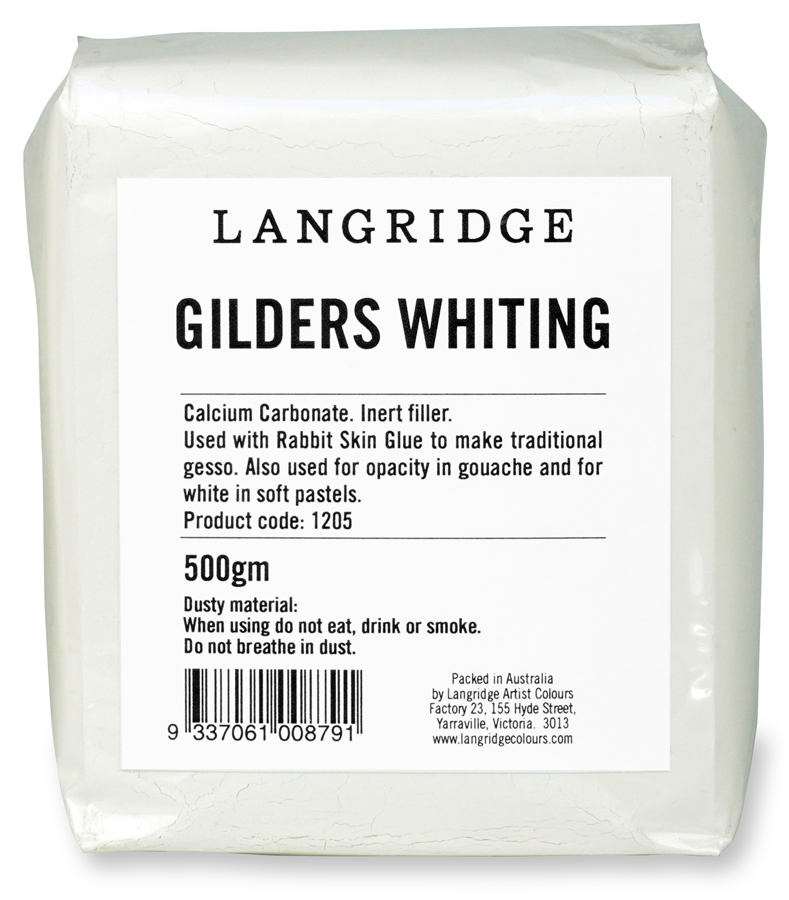 Gilders Whiting

Calcium Carbonate. Inert filler.
Used with Rabbit Skin Glue to make traditional gesso. Also used for opacity in gouache and for
white in soft pastels.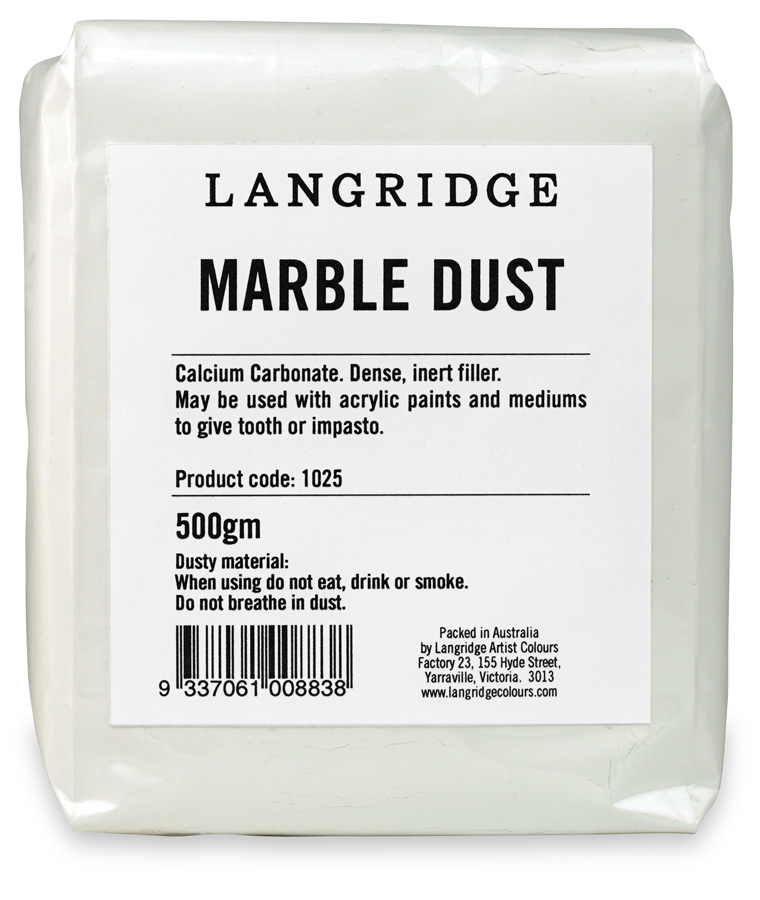 Fine White Marble Dust

This manufactured calcium carbonate is extra fine, dense, inert and very white.
Added as a filler for water-based paints to create opacity. It may also be used as a extender for oil colours due to its lower oil absorbtion index than Gilders' Whiting.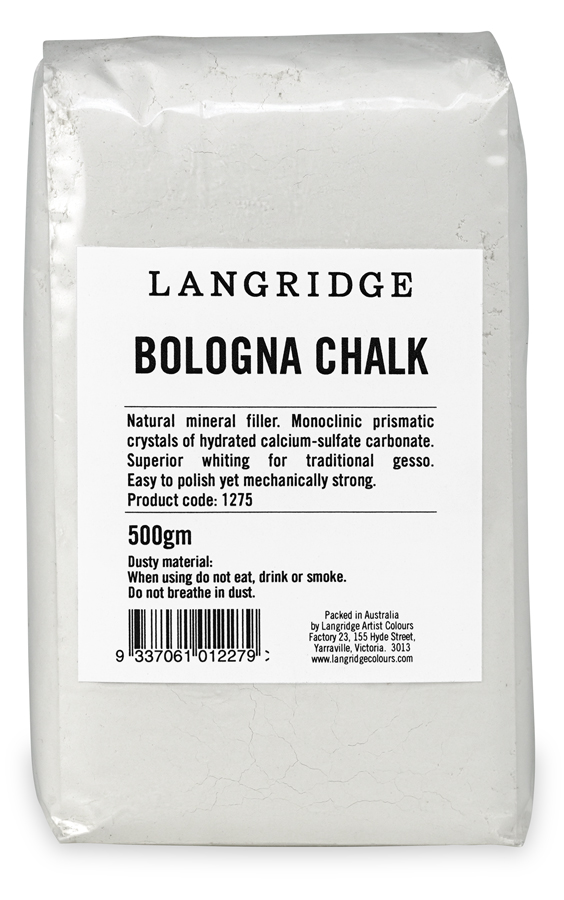 Bologna Chalk

Natural mineral filler. Monoclinic prismatic crystals of hydrated calcium-sulfate carbonate.
Superior whiting for traditional gesso.
Easy to polish yet mechanically strong.
SDS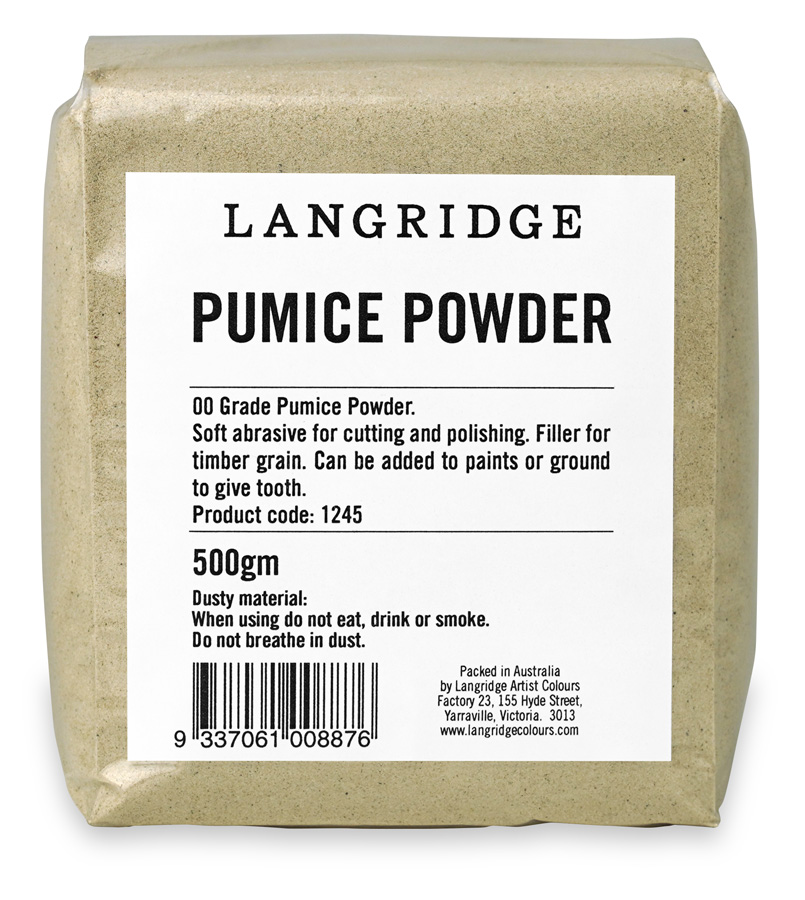 Pumice Powder

A very absorbent, fine grey inert filler.
Adds texture to primers, paints & mediums; may be used as a soft abrasive for cutting and polishing; also used as grain filler.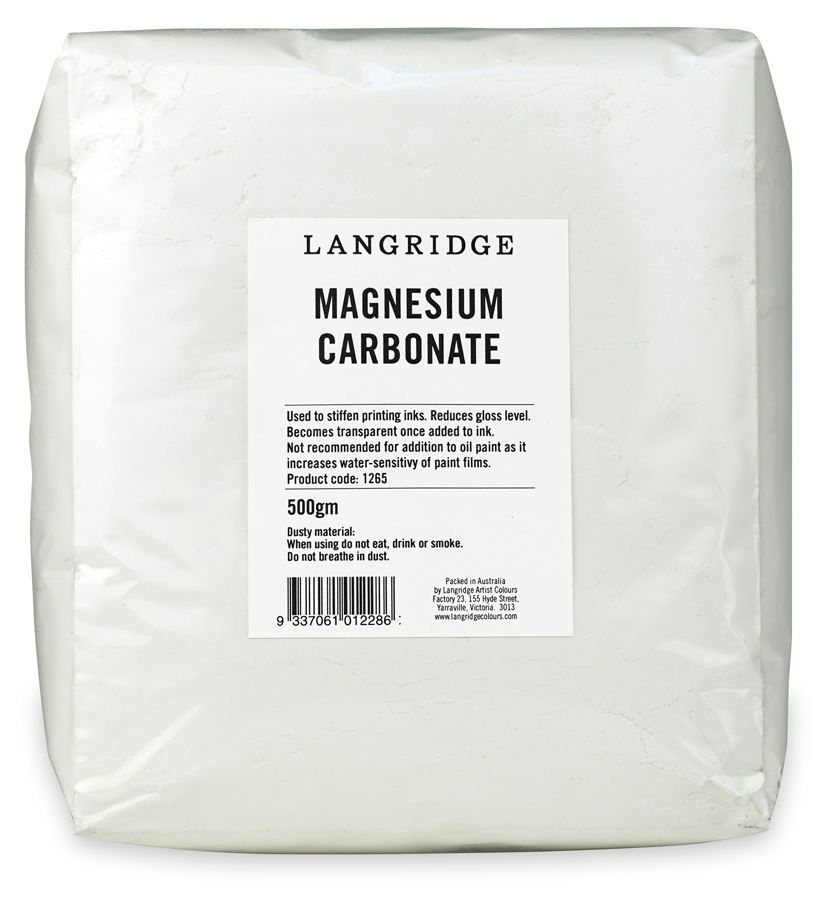 Magnesium Carbonate

Used to stiffen printing inks. Reduces gloss level.
Becomes transparent once added to ink.
Not recommended for addition to oil paint as it increases water-sensitivy of paint films.
SDS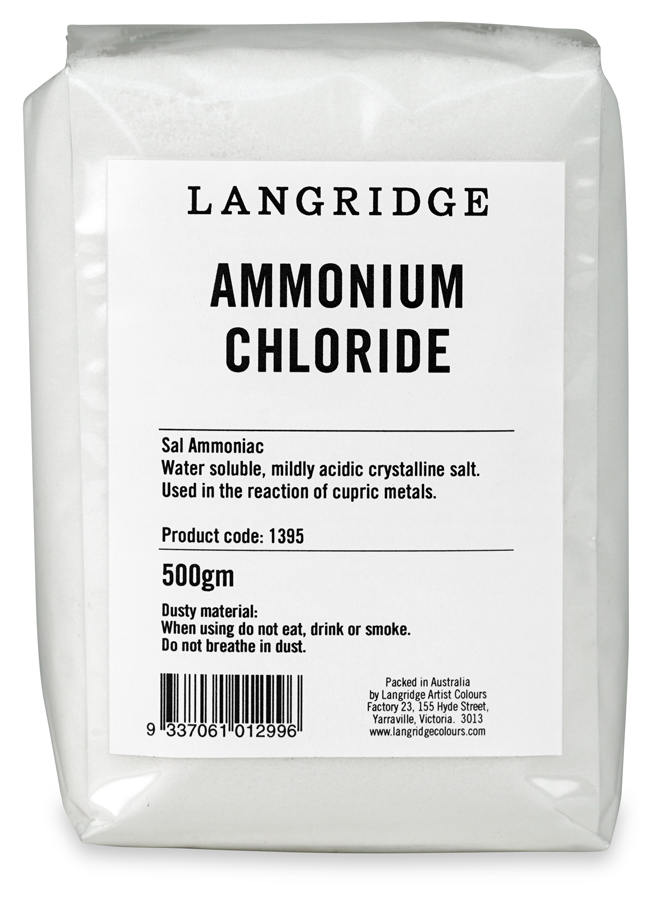 Ammonium Chloride

Sal Ammoniac
Water soluble, mildly acidic crystalline salt.
Used in the reaction of cupric metals.
SDS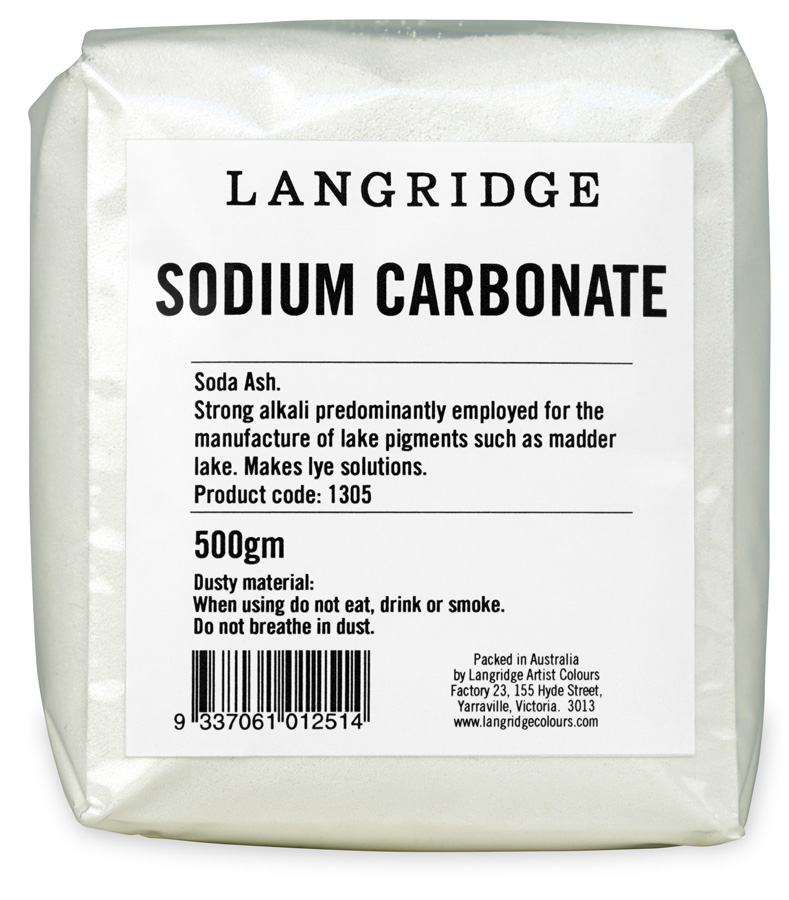 Sodium Carbonate

Soda Ash.
Strong alkali predominantly employed for the manufacture of lake pigments such as madder lake.
Makes lye solutions.
SDS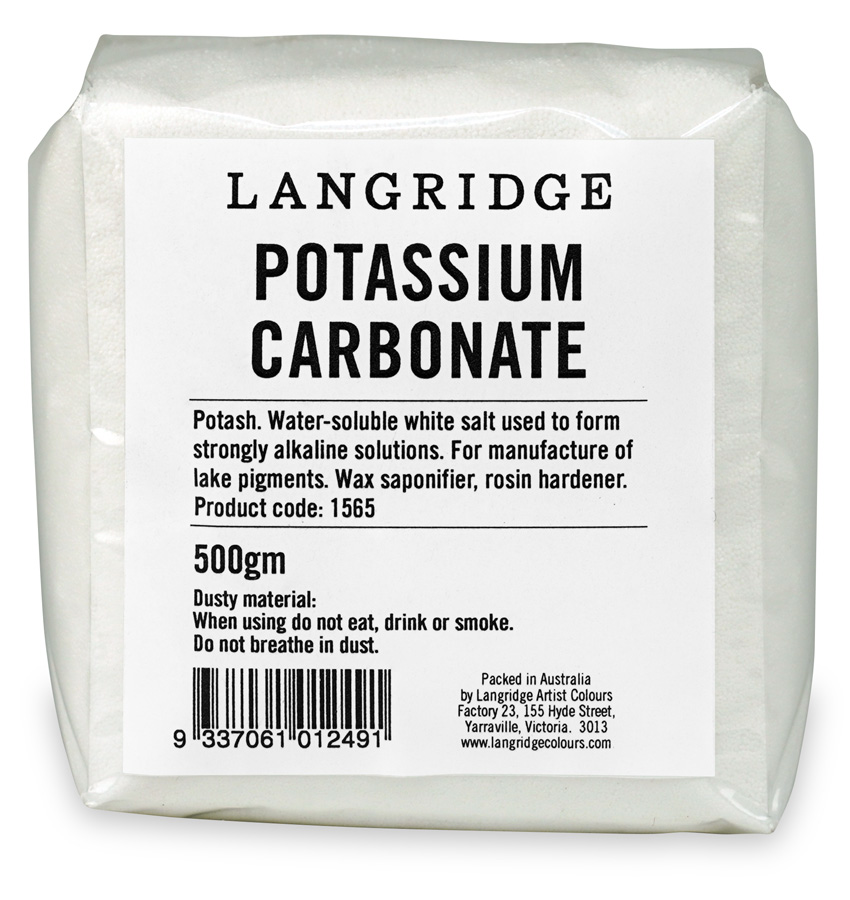 Potassium Carbonate

Potash. Water-soluble white salt used to form strongly alkaline solutions. For manufacture of lake pigments. Also used for wax saponification, hardening of rosin.
SDS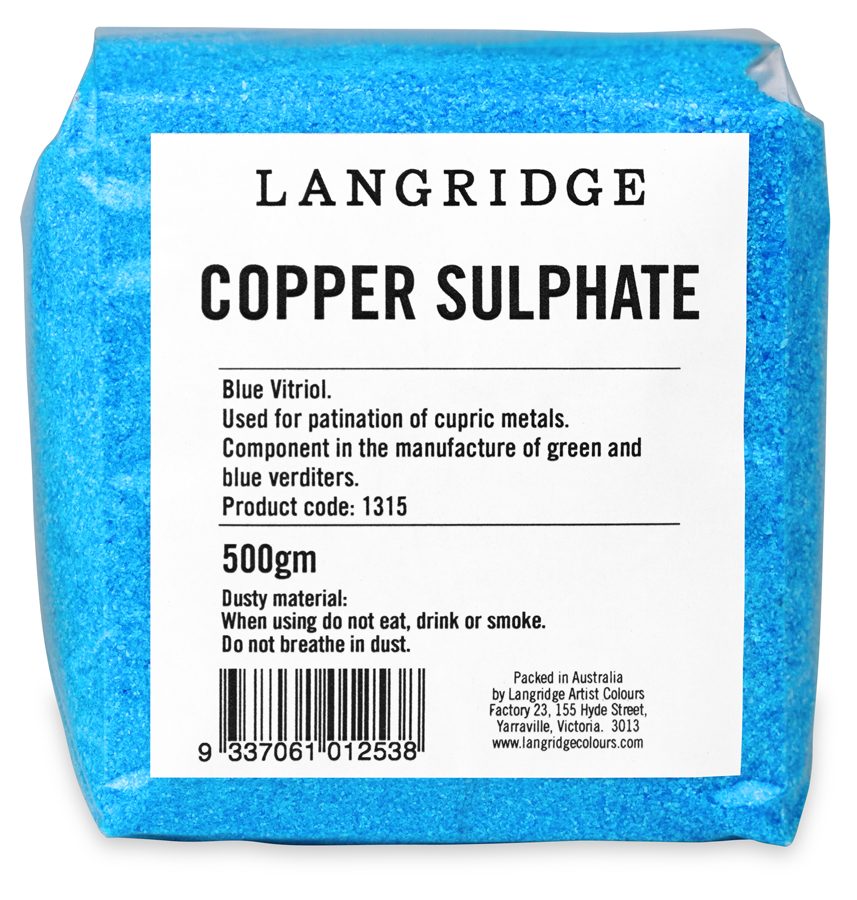 Copper Sulphate

Blue Vitriol.
Used for patination of cupric metals.
Component in the manufacture of green and blue verditers.
SDS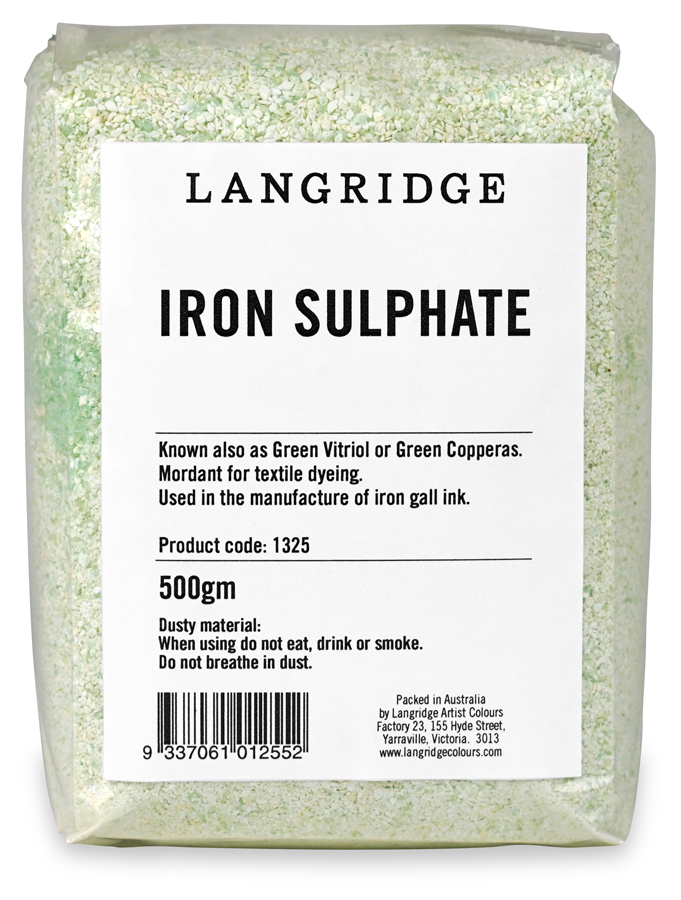 Iron Sulphate

Known also as Green Vitriol or Green Copperas.
Mordant for textile dyeing.
Used in the manufacture of iron gall ink.
SDS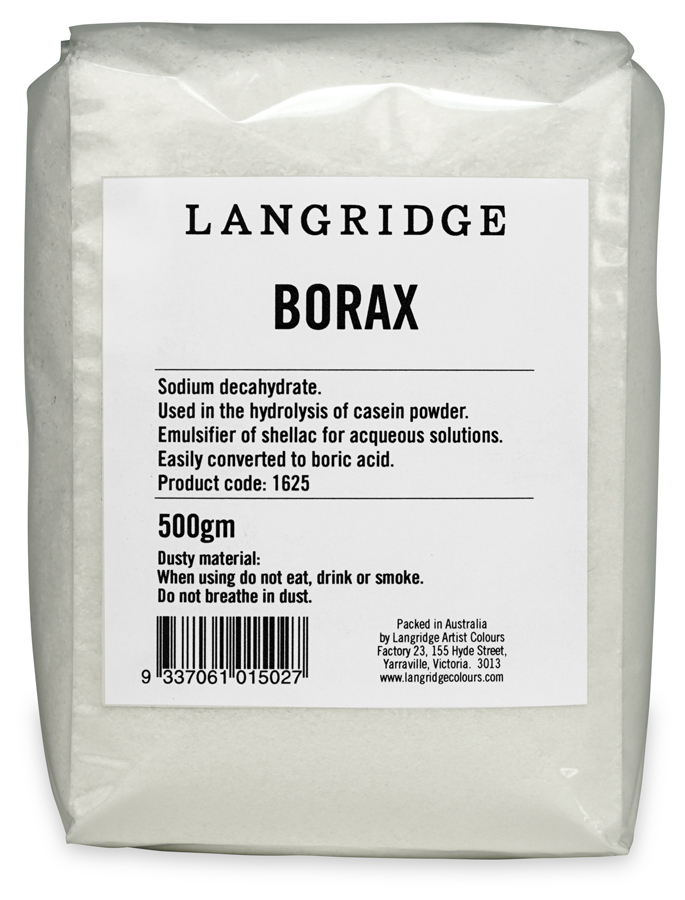 Borax

Sodium decahydrate.
Used in the hydrolysis of casein powder.
Emulsifier of shellac for acqueous solutions.
Easily converted to boric acid.
SDS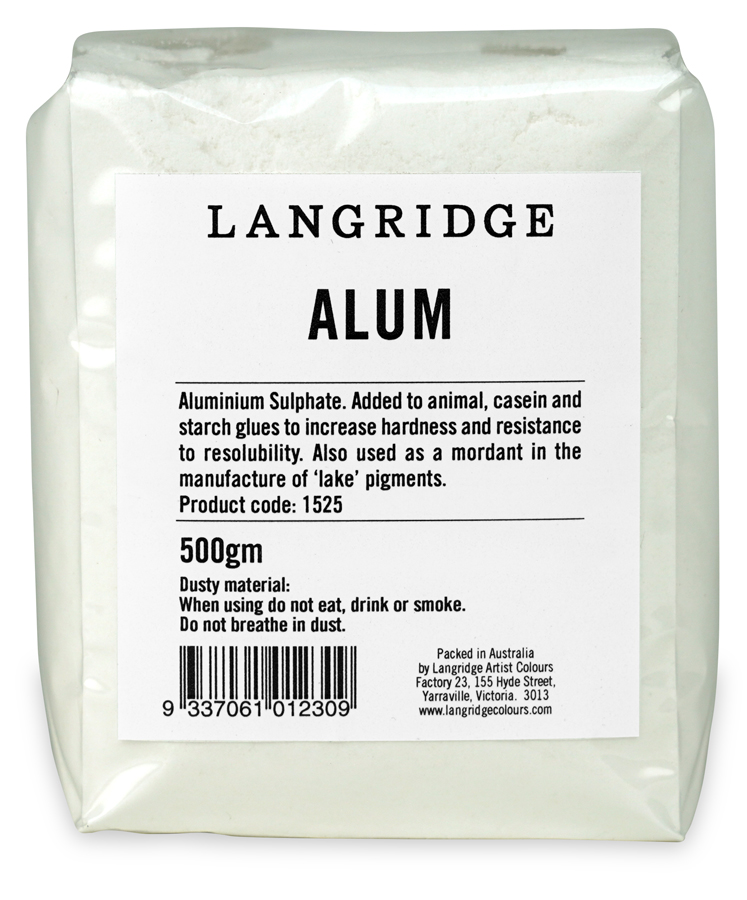 Alum

Aluminium Sulphate.
Added to animal, casein and starch glues to increase hardness and resistance to resolubility. Also used as a mordant in the manufacture of 'lake' pigments.
SDS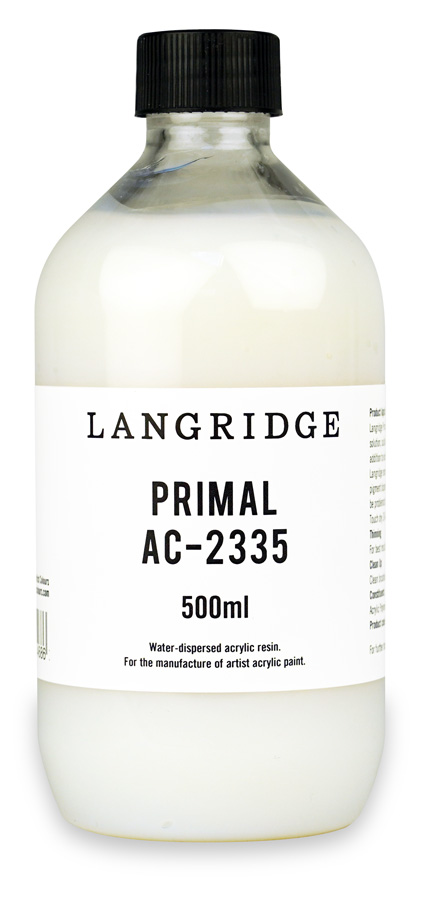 Primal AC 2335

Langridge Primal AC2335 is a pure acrylic emulsion in aqueous solution, suitable for the manufacture of acrylic paints or for addition to existing pre-made acrylic paints.
Touch dry: 30-60 minutes. Full coalescence: 72 hours.
Constituents: Acrylic Polymer Dispersion
SDS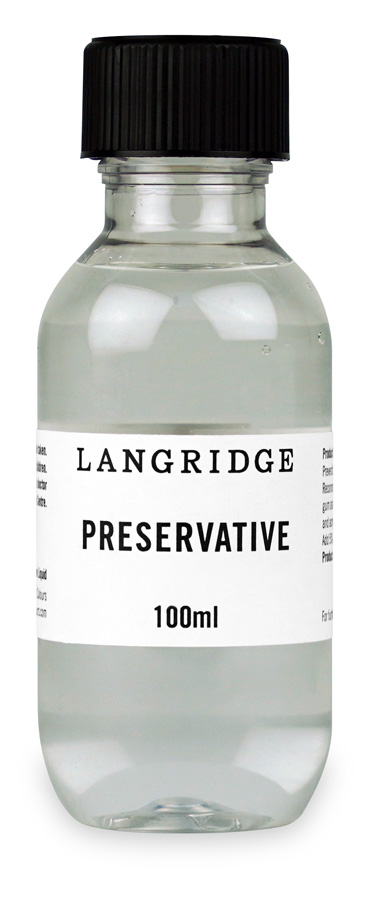 Preservative
Prevents bacterial spoilage.
Recommended for home manufacture of gum arabic, ethyl cellelose, gum tragacanth and acrylic solutions.
Add 5% by volume to aqueous solutions.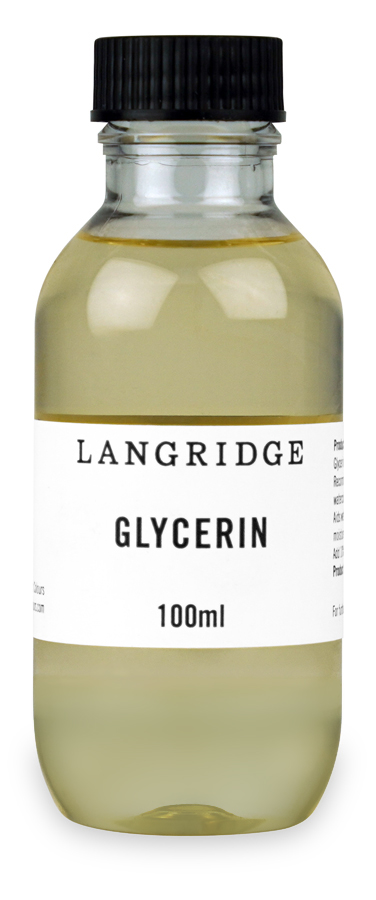 Glycerin (vegetable)

Recommended for the home manufacture of watercolour and other water-based paints.
Aids wetting out of pigments and increases moisture retention for easier rewetting.
Add 10% by volume to gum arabic solution.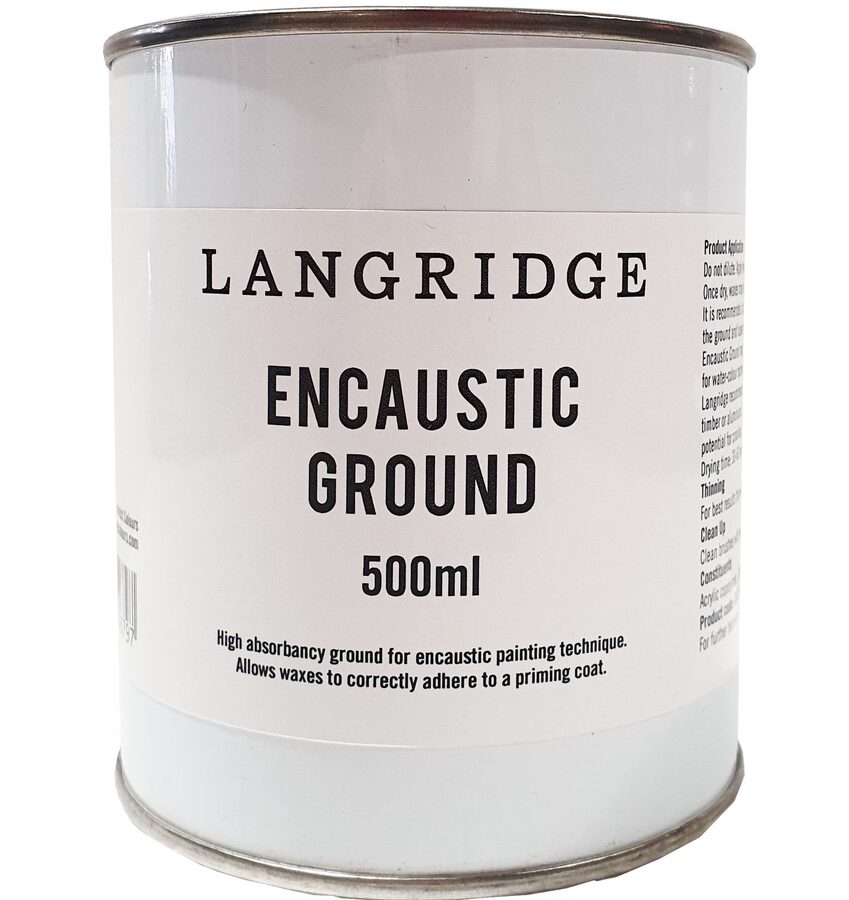 Encaustic Ground

Do not dilute. Apply two coats to sealed substrate.
Once dry, waxes may be applied directly to the prepared surface.
It is recommended a thin coat of untinted wax is applied first to the ground and fused into the surface using heat.
Encaustic Ground may also be used as a high absorbancy surface for water-colour techniques such as staining.
Langridge recommends application to inflexible supports such as timber or aluminium. If applied onto highly flexible supportthere is potential for cracking.
Drying time: 30-60 minutes to touch dry. Full drying: 72 hours.
Thinning: For best results thin with distilled water.
Clean Up: Clean brushes with warm water.
Constituents
Acrylic copolymer, Titanium Dioxide, Calcium Carbonate.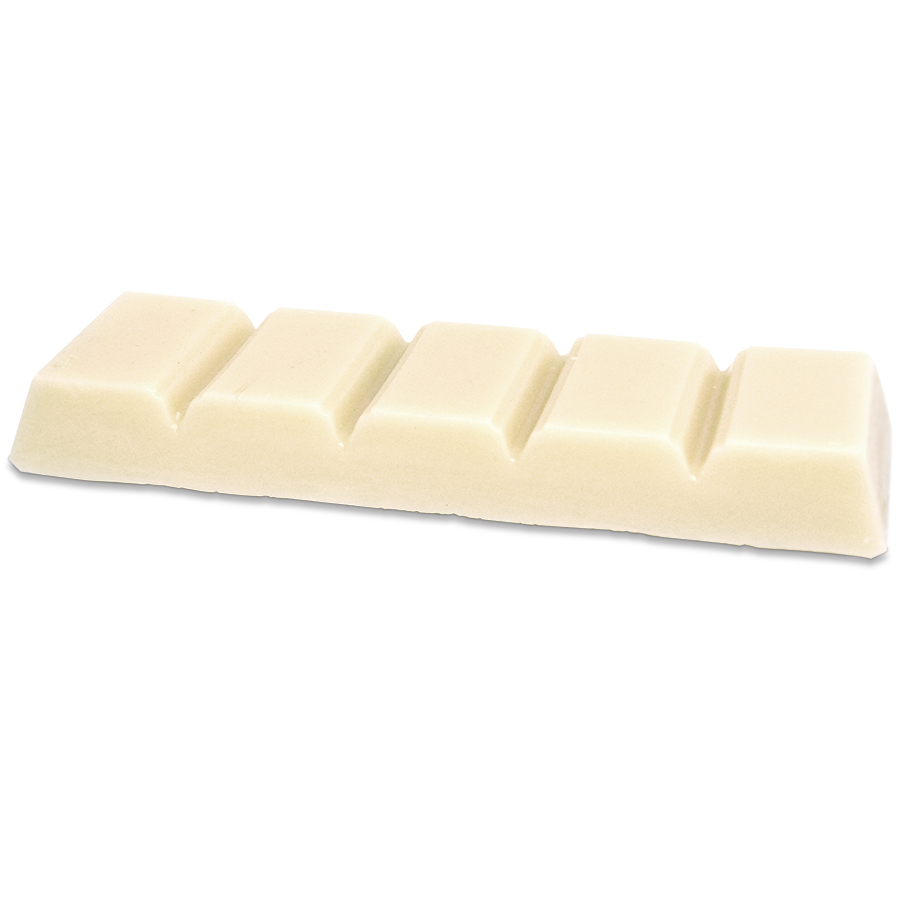 Encaustic Wax

Encaustic is a beeswax-based painting medium.
Heated till molten and coloured with pigment or oil colour, the wax is applied whilst hot to inflexible supports with an absorbant surface preparation.
Equipment needed: Electric heating pan or tray. Do not use flame. Heat-proof containers or muffin tray. Natural bristle brushes and spatulas.
Application: Break off desired quantity of wax and place in containers sitting on heating pan . Melt Encaustic Wax melt point = 72o C. Once melted add pigment to colour.
Stir to blend through the wax evenly. Apply to prepared surface with brushes or spatulas. The wax hardens as it cools.
Ingredients: Refined Beeswax, Castor Wax.